Luna is taking a break from 43T. She will be back :)
Thing #6 sewn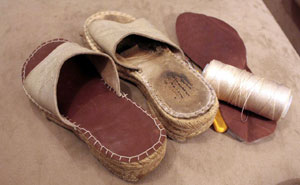 Shoe repair.
---
Comments:
Saraband :)
shoe repair!
Luna, there is no end to your talents!
Luna is taking a break from 43T. She will be back :)
LOL!
Oh, there is! I admit I'm the crafty type, but perhaps that's the end of my talents. When it comes to sales, eloquence, social skills, or the flirting arena, I'm a complete incompetent :S You can't have it all… ;)
Saraband :)
oh so
Luna has gotten 1 cheer on this entry.
razz51 cheered this 3 years ago