New Isabella is taking a break from 43T due to technical difficulties...
Week of 4/16/12-4/22/12 - Faithfully fickle April...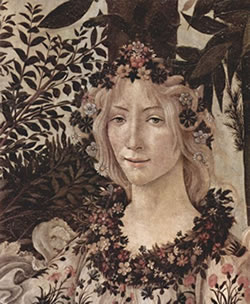 Detail of Flora from Primavera Botticelli, c. 1482 – image source
Always Marry An April Girl
Praise the spells and bless the charms,
I found April in my arms.
April golden, April cloudy,
Gracious, cruel, tender, rowdy;
April soft in flowered languor,
April cold with sudden anger,
Ever changing, ever true—
I love April, I love you.
-
Ogden Nash
---
| | | | | |
| --- | --- | --- | --- | --- |
| DAY | : | Y/N | : | DONE |
| Mon. | : | Y | : | 3 – wow, a productive day! |
| Tue. | : | Y | : | 3 – meeting & errands day |
| Wed. | : | Y | : | 2 – book group & leftover errand day |
| Thu. | : | N | : | - excuses: gloomy day, tiredness, the blahs & the blues, but I did get to a meeting even though I didn't want to go and took notes even though I didn't want to do that |
| Fri. | : | Y | : | 2 – accepted an invitation to dinner |
| Sat. | : | N | : | - busy day of church lady stuff… |
---