If I were a Republican, I'd be embarrassed by this poll.
When asked whether the government should take care of people who cannot take care of themselves:
Democrats: 75%
Republicans: 40%
Compared to a similar poll in 1987:
Democrats: 79%
Republicans: 62%
Less than 1/2 the Republicans feel that the government should help the disadvantaged which is a 1/3 drop in just one generation… I would imagine one of the reasons for lack of support is because some people would be helped who don't need the help, and thus, wasting our tax dollars. Only my opinion, but I would not deny help to those who need help just because there is a small percentage of people who would scam the system. I am not going to deny 90-99% of the people who need help just because 1-10% of the people are taking advantage of the charity of others. Another reason might just be that Republicans do not want to give up what they have "earned".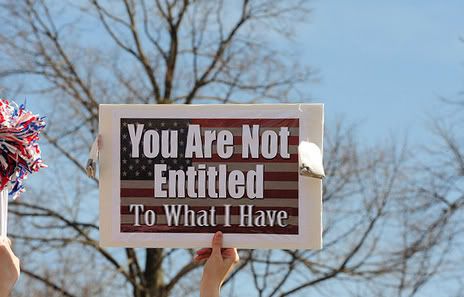 Considering the Republican base generally consists of people on the upper end of the economic scale, they are saying that their own personal wealth is more important than the good of other people as a whole.
This sentiment echoes the Republican plan earlier this year to cut the federal budget supporting school lunches for poor school children and meals on wheels for the elderly instead of raising taxes on the rich. I love how Joe Barton (R-TX) quotes "The Lord helps those who helps themselves" which actually has no Biblical source (just his father's). Sadly enough, most Americans actually believe this is not only taught in the Bible but is a fundamental message of the Bible.
This reminds me of a Stephen Colbert's segment I posted from 2010 where Republicans did not want to extend the unemployment benefits and references religion as justification for not helping the unemployed. Colbert points out that unlike the references provided by the Republicans, Jesus advocated helping poor people indiscriminately, not just the poor who "deserves" our help. He continues that if we are a Christian nation which doesn't help the poor (or only conditionally helps the poor):
"Either we've got to pretend that Jesus was just as selfish as we are, or
"We've got to acknowledge that he commanded us to love the poor and serve the needy without condition—and then admit that we just don't want to do it."
Click the above for the original video (although Viacom may be removing access to videos due to their contractual conflict with DirecTV).
References:
---