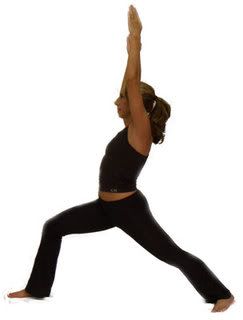 I figured it was high time to scribe an entry for this long-awaited goal…
Wouldn't I, a nimbly, bimbly girl of college-age, want nothing more than to teach yogahhh ? Well…maybe. But how freeing this practice is. I'd love to devote a lot of my time to teaching everyone the poses and mediation of this ancient practice.
Anyone who knows me has seen me break out into a pose whenever my back starts to ache, or sink into the Lotus position to meditate whenever I get a mind's peace.
I'm pretty sure that I wouldn't devote this to a full-time career, but maybe something one the side, like Paul's co-worker Pam, who teaches a half-hour class on her lunch. I think I'd like to be certified, just to be certified, so I can open myself up to new job opportunities and personal experiences.
---