Since 2000, I have lost almost 25kgs, which is something I am of course very proud of. There were a lot of ups and downs, and a lot of that has come off just in the past 2+ years of life here in Denmark. I am glad I have been able to do it, and learn how to do it properly.
Now I just want to shift this last 15 kilos to get down to my goal weight. And I want to maintain it.
At the moment I am utilising the great online tool HotCal to track my exercise and calorie intake. I'm finding it awesomely helpful, whilst at the same time being nice and simple and no frills. I get motivated by seeing the change in the numbers and the graphs breaking it all down for me, so this tool is excellent.
---
The husband and I have both been wanting to do this since either of us can remember. When we met it was just another of the things that told us that we had found the right person.
Our plan is, and always has been, to move out of this cosy little apartment and into a house in the countryside around Vejle here in Denmark. My husband works for a museum down that way, so while he works, I will be at home tending the gardens and animals.
We're looking for a place that has at least 10000 square meters of land, and one that preferably has a piece of forest on it. That way, we can have the all the space for the animals that we want (chickens, geese, possibly also goats and pigs) and be able to forrage in the forest (fingers crossed) for nuts, wild fruits, wild herbs etc.
Currently the only thing standing in our way is money. And then, only really because we want to save a lot of the deposit ourselves, so we can be a little less dependent on a loan from banks to get the whole process started. So we're doing our best now to save, and in the process are learning to live a more simple life already by not constantly clogging it up with 'stuff' that we dont really need.
The outlook for the near future, is to hopefully start the process for real by this comming winter. We're keeping our fingers crossed that some of the houses that we have our eye on now are still available by then :)
In the meantime, I am doing my best to learn as much about organic gardening, homesteading and self suffiency as I can. Using the internet, the library and any other resource I can get my hands on, I have so far collected a 2Gb+ file on my computer of files and articles found on the web about all the topics I could think we might need to know about, and now that I'm not going to danish classes any more, I have time to get reading. I've even tried to start growing some edibles here in the apartment…an experiment more than a neccessity, but a fun one none the less.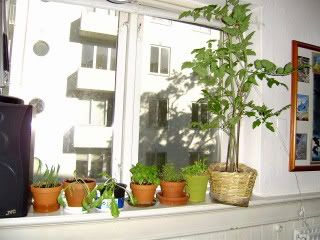 ---