How I did it: With the help of other wonderful women, I gradually taught myself to make this a monthly habit. I know that I check in late sometimes, but the most important thing would be to just do it, even if the appointed date has already come and gone. Read how I did it…
How I did it: I've had this goal for as long as I can remember really.  Actually, I think this is included in the list of original goals that I had when I started here.  I've been delaying this for as long as I can remember probably because I always thought that my ex would be there to organize my stuff for me forever.Stupid, I know.Then this weekend, I finally got sick of looking at all those clothes piled on top of my couch that I just started to do … Read how I did it…
I love Leche Flan. I've always associated it with celebrations and special occasions because when I was young, I only got to eat it at Birthdays, during Christmas Noche Buena and New Year's Media Noche.
Hands down, the best tasting Leche Flan I've ever eaten is the one made by my A Yi, Tita Linda. It's perfect really. It makes my young heart skip a beat whenever I see the gooey caramel ooze down the side when it's upended from the llanera to the serving dish. When you cut through it with your fork, you can see that there are no bubbles inside the custard, which indicates that it's going to melt in your mouth once you take a bite. Her recipe, when asked, is filed under the "If I Tell You, I Would Have To Kill You" category. It was that yummy.
However, if you're going to ask me what my favorite Leche Flan is, it's my Dad's version that's way up there in a pedestal. It isn't creamier than my A Yi's version. In fact, it was like boiled egg. It wasn't smoother or in any way more delicious. But it's still the best Leche Flan in my Leche Flan Hall of Fame.
Nearly 18 years ago during our Summer Break from school, my siblings and I were lamenting the woes of only being able to eat Leche Flan on special occasions. Not because the ingredients are rare. It's only made of eggs, condensed milk and Philippine Lime. But because the prep work and the time spent cooking it is so labor intensive, it's such a pain in the ass to make in an ordinary day.
My Father, who had babysitting duties that time, overheard our collective sighs and told us that he would make us Leche Flan. I still remember how my brother's eyes lit up and how my excited screech filled our house. We conveniently forgot the fact that my Dad has never, ever cooked Leche Flan and has an aversion to following directions from a cookbook. All we had in our heads were visions of huge, creamy custard, bathed in caramel syrup.
So my Dad started asking for our preference. It's going to be a democratic Leche Flan, he said. Where all our suggestions are going to be thoughtfully considered and executed. My sister wanted something marbled. My brother wanted something that's round instead of oblong. And me, greedy little brat that I was, just wanted something big. Given these guidelines, my Dad set to work. And whether he liked it or not, he got himself three assistants to help.
After an hour and a half, the kitchen looked like a war zone. Egg shells and powdered sugar were everywhere! But we hardly noticed. The four of us were eagerly waiting for our Leche Flan to finish steaming. Instead of using a wimpy Llanera, which would make a too small Leche Flan, my Dad decided to make the whole thing in a Bundt Cake mold. The thought of stuffing my mouth full of Leche Flan, instead of taking just dainty little bites, was pure ecstasy.
At last, it was ready. There was a mad scramble for forks while my Dad upended his Master Piece on a plate. It didn't have caramel syrup, but we improvised with powdered sugar. Our Leche Flan was looking more and more like a Bundt Cake, but we didn't care. My sister got the first slice, then my little brother, then me. We all smiled at each other and took that first forkful.
It tasted like hard boiled egg.
My Dad, completely forgot to stir the custard mixture and only one side of the whole thing was sweet. And he totally underestimated the amount of sugar needed for the recipe so it was like eating a mildly sweet white part of a hard boiled egg. He also ended up steaming it more than what's required. It was a culinary disaster.
But that Leche Flan had lots of love and good intentions in its mix. It was the end-result of my Father's efforts to make his children happy. It was also a testament to the lengths that my Father would go to so he could give us what we wanted. He loved us so much, he was willing to make Leche Flan from scratch, even if he had no idea what he was doing.
That Leche Flan was a far cry from my A Yi's caramel cloud of perfection. It was a Bundt Cake which tasted like mildly sweetened hard-boiled egg. But it was the best Leche Flan in the entire world.
I miss you Dad.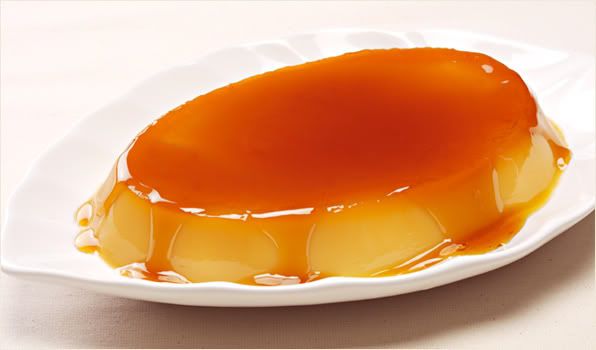 ---
Grey.
My day, the sky, my heart…
They're as clear as a foggy crystal ball.
My breath, my skin, my face,
cold and stinging from the howling wind outside.
Grey…
Will I ever be red again?
or pink? or golden?
Will I ever blush at the promise of affection?
tickled pink at the thought of someone?
or shall I remain bland, black, blue?
Grey!
I never wanted to be as sad as a shade…
Haunting the halls of my past…
When will I ever be truly happy?
Or will I remain forever balancing,
on the knife edge of sadness and memories?
Grey.
I'd rather be golden.
---