...a great time on my trip to the canyon country to see the eclipse. I left Friday (May 20th) morning and drove to Colby Kansas. It was about 2:00 AM when I arrived in Colby and I was faced with a choice: do I drive straight through, which means a great deal of the Rockies I wouldn't get to see because it would be dark or do I sleep for a while. I chose to sleep and found a Walmart parking lot to pull over in and sleep in. After sleeping for four hours, I got some coffee and continued onward to Moab, Utah and arrived there around 2:00 PM Moab time (Mountain Time). I went to the hostel in town, The Lazy Lizard, and got a bed and stayed there for the three nights that I was in Moab.
After getting the bed, I bought a few groceries and made myself a meal of beef and cabbage at one of the kitchens in the hostel and then spent several hours walking around town checking out what has changed in the 18 months since I was last in Moab and browsed a few bookstores and art galleries. Afterwards, I returned to the hostel and went to bed early.
The next morning, when I woke up, I got a chance to talk to some of the other people who where staying in the hostel. There were three friends from Germany, two women and one man, who I got to get to know a bit while I was in town. They were pretty cool and we exchanged information and may keep in touch a bit. There were also some older hippies and a few Mexicans that I got to talk to for a while that I remembered from the last time I was in Moab (I believe they live at the hostel in exchange for helping to do some of the cleaning and such).
I spent the first day driving and hiking in Arches National Park. I did the three mile round trip hike up to Delicate Arch and a few shorter hikes to see a few other minor arches. After hiking, I grabbed some fish tacos for lunch at a place in Moab and then drove 58 miles to Newspaper rock to see the petroglyphs and then drove another 17 past that to the visitor center at the Needles section of Canyonlands National Park to watch the eclipse from there. The eclipse was an amazing experience and what amazed me was how dim the area became as the eclipse reached it's zenith (and how it brightened back up as the moon began to move out of phase, as well). I had bought a viewfinder for watching the eclipse and enjoyed sitting on a picnic table and watching the eclipse progress. Afterwards, I drove the 75 miles back into Moab and grabbed some dinner at the Moab Brewery (one of my favorite restaurants in the whole world). After dinner I went back to the hostel and spent a few hours talking to some of the friends I had made before calling it a night and going to sleep.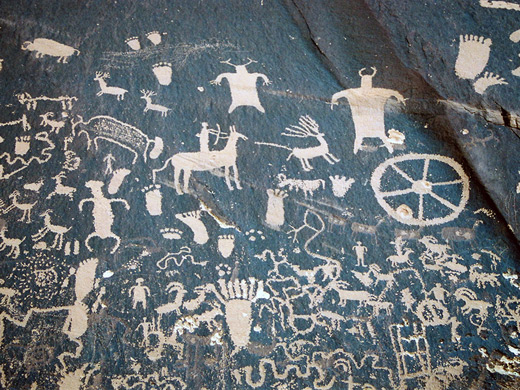 Monday, my second and last full day in Moab, I spent the day buying more books, walking around town, and seeing 6 other arches in 5 separate hikes for a total of 4 miles. I also ate at the Moab Brewery again for dinner and afterwards spent a few hours with my new found friends and we played cards (poke and blackjack… I won at both… haha, but no real money was involved). I went to bed early because I knew I had a very, very long day ahead of me the next day.
Tuesday morning I woke up early and hit the road and drove 23 hours straight back home. I arrived at 9:00 am Eastern Time here at home this morning (Wednesday, May 23, 2012). I unpacked, got my dog, wrote my honey, and went to bed for a few hours. It was a very fast, rushed trip and I had to be back sooner than I would have liked because I have to help my father prepare for our family reunion and finish up some business details for the summer's school work, but I am glad that I got to go on this trip and really enjoyed doing so. :)
I took over 500 photos on this trip. I need to go through them and do some editing and uploading, but I'll try to get them up on my Flickr page soon.12 months ago