Money just got EXTREMELY tight for DBF and myself, and the last thing I want to spend what little I do have on is food. I need electricity, water, and a phone that is still connected a lot more than I need a big meal. At the same time, for about a week now, he's been living off of Ramen Noodles and I've been not really eating at all. I went from 125 lbs to 112 lbs in about a week and a half. =/ I find that when I get stressed out I have no appetite or desire to eat until I feel so sick I'm about to pass out and my eyes start blacking out. I work in a restaurant and I don't even feel tempted to eat when I'm running out plates of food anymore. It's not healthy, it's just how I've been feeling. I would rather sleep and be lethargic for extended periods of time than eat.
So today, I decided I HAVE to bust out of this. I am working hard to get a second job and I gotta take care of my body if I'm going to run it constantly. I took all the stuff out of my pantry and said "What can I make out of this?" and "What do I need to finish these meals?"
This is what I came up with to feed DBF and I until next Friday (9 days) for only $45 at the grocery store. It's not the healthiest meal plan you've ever seen, but all of it is easy to make and it's a hell of a lot better than Ramen noodles.
Breakfast:
I already had on hand oatmeal, and that's what I'm going to eat. I also had on hand some Great Value Orange Drink Mix (Walmart Brand Tang) so that's what we'll have to drink.
I also got some bananas. $.76

Pro tip: If you're going to eat oatmeal everyday for a week, do something different to it every day. Today I put brown sugar on the top. Tomorrow I might add a splash of maple syrup. Sometimes I add cinnamon and apples. The best is just good ol' milk and butter.
For DBF:
Raisin Bran: $2.82
Milk: $2.18
Total Cost for Breakfast This Week: $5.76
---
Lunch: I already had bread and lunch meat (When we have cooked for the last two weeks, it has been almost entirely sandwiches consisting of ONLY turkey, cheese, and mustard. So boring.)
To spice up our sandwiches, I got
Lettuce: $1.18
Banana Pepper Rings: $1.43
And to go with them, I got a bag of Doritos: $2.58
We'll probably drink either more orange flavored drink or unsweet tea (we had tea bags at the house already, as well).
Total for lunch this week: $5.19
I'll probably have to buy more sandwich meat when we run out.
---
Dinner #1:
I found a can of shredded chicken, two cans of chicken broth, and a can of tomatoes and green chiles (Rotel). My natural instinct was of course, green chile stew. :)
Since I had all the main ingredients, all I had to get was:
1 Onion $0.62
4 Jalapenos $0.16
2 Potatoes $1.01
Total: $1.79
This will make a big pot of soup, and I'll probably eat the leftovers with my turkey sandwiches for lunch.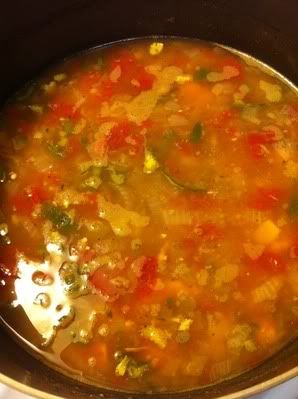 Throw some cheese and tortilla chips on that and it is DELICIOUS.
Dinner #2:
Breakfast Burritos.
I had six eggs left from the last carton I bought, so I bought a Jimmy Dean Skillet Meal, which includes the potatoes, onions, bell peppers, and sausage or ham depending on which one you buy. $4.12
Tortillas to put it in: $2.18
Cheese: I already have sliced American. If you want to make these the right way, use shredded cheese. >_>;
Total: $6.30
Dinner #3
I found two cans of tomato sauce, a package of "Spaghetti Sauce Mix" and even the noodles! Jackpot!
All I bought to complete the meal was a pound of sausage $2.98, and frozen garlic bread $2.27
Total $5.25
Dinner #4
Sloppy Joes and Chips
I already had the tomato sauce and sloppy joe mix, and I bought the Doritos to go with lunch.
So all I had to buy was
Ground Beef: $2.58
Hamburger Buns: $1.25
Total: $3.83
Dinner #5
Hamburger Helper. Good ol' cheeseburger macaroni.
Already had the box, so all I had to get was another roll of ground beef. $2.58
Dinner #6
DBF really likes "Frito Burrito Wraps" despite the fact that they have little to no nutritional value. I figure, better to make it at home than pay $2.50 a piece for the SAME thing from Sonic.
I already bought the tortillas for the breakfast burrito dinner and again, I'm doing this the ghetto way and using American cheese. I highly recommend getting shredded instead.
Fritos: $3.78
Chili: $1.25
Total: $5.03
Dinner #7
Chicken Fettuchini. It was a 'complete' meal from Hamburger Helper where everything is in the box and you don't have to add meat. Free.
Dinner #8
I already had pancake mix, syrup, and butter. Again, free.
Dinner #9
Red Baron Frozen Pizza $3.33
---
For snacks I have Pot Pies that were already in my freezer and oranges that were already in my refrigerator.
---
Total Spent: $44.98
Do I realize that all of this is essentially junk food? Yes. Chicken was expensive this week. Ground beef and sausage were not. This also uses a lot of ingredients that have been sitting in my pantry for a long time that I consider "free" at this point. $45 to feed us for nine days is really good. I've spent that much on a single trip to Panda Express (I kid you not.)
I may end up going back to the store for some more bananas and turkey, but this is essentially all the food I have to live on for a while. Hope this helps anyone who can't figure out what to make if they're roughing it in this economy.
Note: If you're going to be living on a meal plan like this, (Not a lot of fruits and veggies to speak of) invest in a good multivitamin. It helps fill some of the gaps that your diet may not. 19 months ago